The new kid on the PacBio block — The Sequel IIe System — has been receiving high marks from universities and sequencing centers around the world.
What's it like using the instrument, which was introduced in October 2020? Several users have spoken about their experiences in a series of recent online events.
Launching PacBio Sequencing Services in a New Lab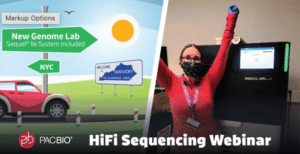 Melissa L. Smith (@SmithLab_UofL), spoke about her experience transferring her lab from New York City to the "PacBio naive" Bluegrass State in the Unleashing the Power of HiFi webinar.
Smith admitted she faced some initial challenges in establishing her lab. Chief among them were compute capacity, data storage, ancillary equipment and staff expertise. Luckily, she was able to leverage existing campus resources to overcome many of those hurdles.
As for the computing needs, "The Sequel IIe changed everything," she said.
Her favorite feature? On-instrument data processing, which has solved many of her compute capacity and data storage challenges. Plus, it has eliminated the need to queue or compete for compute resources with others across campus.
"The data coming off it is already collapsed, error corrected, and just 50-100 Gb, compared to ~1 TB from Sequel II," she said.
The Sequel IIe System is not only supporting her research into immunology and infectious disease, it's also part of a sequencing core lab, and one of PacBio's newest Certified Service Providers. In addition to the standard sequencing pipelines, the lab will be doing assay development, SARS-CoV-2 sequencing with the new HiFiViral protocol, and other customized sequencing solutions.
Powering a Wide Range of Sequencing Applications
At the SciLifeLab in Uppsala, Sweden, the Sequel Systems are used for a whole spectrum of applications, from de novo genome assembly to BACs, YACs and filling gaps, Olga V. Pettersson told webinar attendees. Her team has been working with PacBio sequencing since 2013, initially with the PacBio RS II, and they recently upgraded to a Sequel IIe System.
In 2020, they sequenced more than 200 non-model eukaryotic genomes (around 700 individuals total), with many reaching the high quality standards of the Earth BioGenome Project.
Pettersson is also a fan of the Sequel IIe System's advanced computing capabilities, saying it has led to a 20-fold reduction in data storage needs. HiFi reads have also helped shed light on hard-to-access "dark" regions of the human genome, she added.
Q&A with Genomics Core Facility Directors
Pettersson also appeared on a panel of expert users in SMRT Sequencing as a Service – How to Bring Long-Read Technology to Your Core Lab.
She shared tips for sample prep, instrument handling, and business planning, as well as some of the advantages of the Sequel IIe System.
"When the DNA is sufficient, we always prefer to go with PacBio because it's so much easier, with bioinformatics off the shelf, reads of higher quality, and no need for additional polishing," Pettersson said.
Other panelists, including Bruce Kingham of the University of Delaware Sequencing and Genotyping Center, said the Sequel System and its HiFi reads have become "the platinum standard for long read sequencing," with extremely high demand among their users.
"There's really no other data type like HiFi," added Charlotte Harris, research lab supervisor at Corteva Agriscience. "Throughput has been a huge win for us. It's allowed us to take on these much larger and more complex projects, and really benefit our profit margins."
Want to learn more? Attend the on-demand webinar to hear from Melissa L. Smith and Olga Pettersson how the Sequel IIe System is making it easier than ever before to get started with HiFi reads or add capacity.
Want to discuss the benefits of HiFi sequencing and the Sequel IIe System for your research? Connect with a PacBio Scientist.
Interested in becoming a service provider? Visit the Sequencing for Service Provider page.