Produce exceptional results with long-read sequencing
As the field of genomics evolves, there is a growing awareness in the scientific community of the importance of long-read sequencing data. Long-read sequencing improves mappability for resequencing and simplifies de novo assembly. PacBio Systems allow you to directly sequence DNA and achieve long sequencing reads with uniform coverage. Our Single Molecule, Real-Time (SMRT) Sequencing technology consistently produces some of the longest average read lengths available in the industry (average >10,000 bp, some reads >60,000 bp).
Long-read sequencing with SMRT Sequencing gives you the ability to:
Assemble high-quality de novo genomes
Catalog full-length isoforms
Unambiguously align sequences
Observe fully phased alleles
Span repetitive elements and complex regions
Resolve structural variants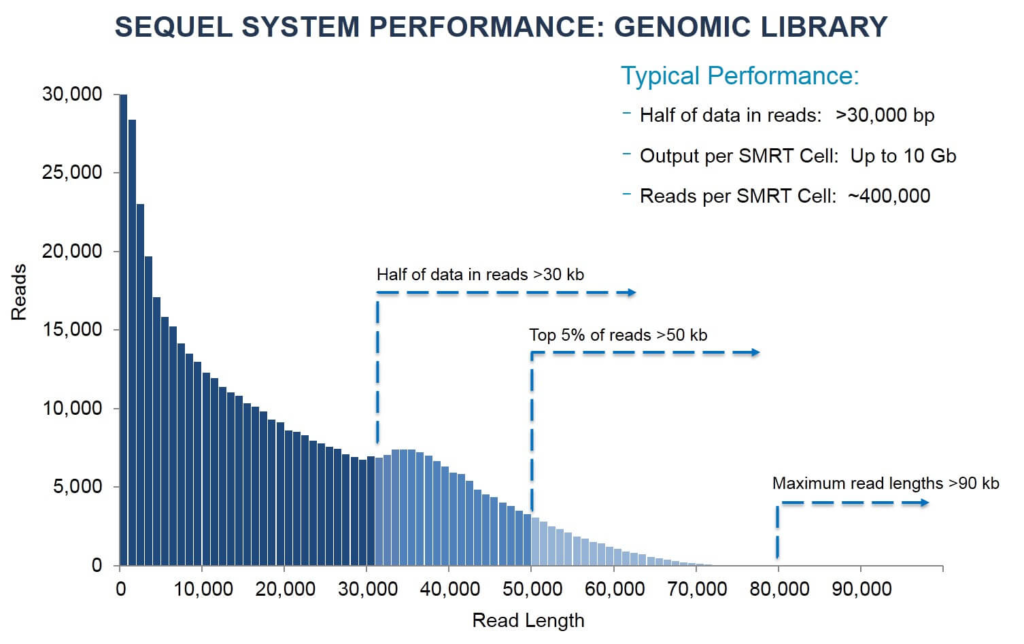 Read length data shown above from a 30 kb size-selected human library on the Sequel System (10-hour movie, 2.0 chemistry) with a total output of 7.6 Gb. Each Sequel System SMRT Cell 1M generates ~365,000 reads.
Contact us for more information about incorporating SMRT Sequencing into your research efforts.